| | |
| --- | --- |
| Geplaatst op 11 september, 2016 om 3:55 | |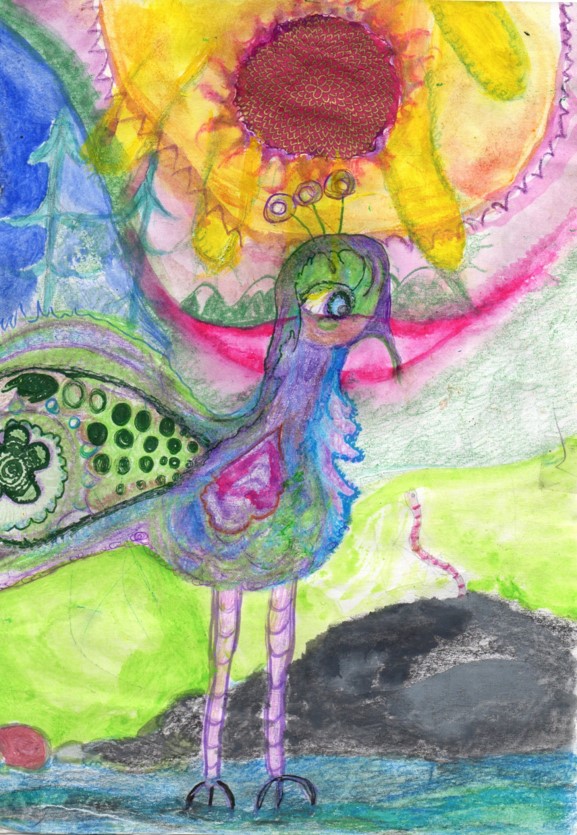 The above picture was the inspiration for the actual cover (see 'home').  'The peacock's hunger' - LDB
I want to tell you the whole story about the final cover picture here...
As a baby, toddler and small child my parents often took me for a walk to the park. In the park there was what seemed a special little palace for the peacock. I thought of him as magic.
In my twenties I had a spiritual dream about what I called 'the Lord of the peacock'. There was a loving man in the peacock's palace of my youth and there were other spirit's celebrating with him. I was a girl, going into the park, walking to a little stream where I sang my song. The song combined with the water of the stream turned into a flower, like some secret alchemistic brew. I took the flower back to the Lord and felt intense happiness when he received my flower with a loving smile and I woke up.
Later, through the practice of Hatha Yoga I felt attracted to mantra-singing which caused me to visit the ashram Sadha Shiva Dham in Loenen, The Netherlands. The Guru I loved and admired was Shiva, the Lord of destruction and new beginning, often visualized besides a peacock. I saw the bright pictures of Shiva and the peacock and was reminded of my memories. Somehow the call of the peacock brought me in touch with the sparkle of my creativity, as did the mantras. Funny enough, the press this little book will be printed by is called Tandava Press, revering to the dancing Shiva! Even though at the moment my interest doesn't lie with the Hinduistic religion in particular, I love to see what I took as spiritual signs in my past, coming back to me in the present. 
I did the four other illustrations before considering the theme of the cover. Because of moving place I was sorting our my box with drawings and my lover's eye fell upon a colourful one of a fantasy-peacock, the only one I ever drew. He absolutely loved him and because of his enthusiasm I got to the idea to use the peacock for the cover. I've been mentioning Ink-birds here at home and here my love recognized one, it's the ink-bird, the call of the ink bird! Because the style of the drawing did not fully fit the other ones I made a new one.

In the title 'The Call Of The Ink Bird', ink is used as a symbol of nature's providing everything we need to fulfill our missions. The call of the bird, a metaphor for our inner hunger to create. Can you hear your ink-bird calling? 

L
Categorieën: Geen